The Current Diverter Ring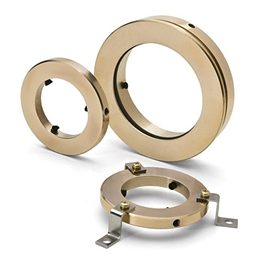 The Inpro/Seal Current Diverter Ring (CDR®) protects your motor bearings and coupled equipment from damaging electrical currents so you can maximize equipment reliability, reduce costly maintenance and minimize unscheduled downtime.
Variable Frequency Drives can create stray currents that run along the shaft and discharge through the motor bearings and bearings of coupled equipment — causing fusion craters, pitting, frosting and fluting. The CDR grounds shaft currents that cause bearing damage and premature motor failure.
For complete bearing protection against electrical currents and contamination, the Motor Grounding Seal (MGS®) combines Inpro/Seal's proven bearing isolator technology with the latest development in shaft current mitigation.
Divert it. Ground it. Protect it.
The Inpro/Seal Current Diverter Ring® & Motor Grounding Seal™
Proprietary design features protect against bearing damage. Here's how:
The CDR® uses proprietary conductive carbon filaments to safely divert stray shaft currents to the ground - away from the bearings.
In addition to shaft grounding, the MGS® utilizes patented bearing isolator technology to keep contamination from entering the bearing housing – protecting your equipment.
Features and Benefits:

Custom engineered for your specific application and operating environment.
Press-in, clip-on or flange-mounted installation.
Split designs for easy installation.
Same day shipments available on most products, including new designs.