HVAC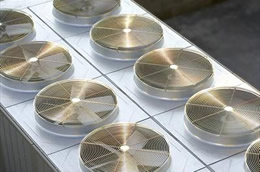 With energy costs on the rise, creating comfortable, healthy, "green" buildings has become increasingly difficult for designers and managers of these environments. HVAC equipment manufacturers are meeting the challenge by increasing the use of high efficiency designs. Many of these designs employ 'smart' air handling systems that use variable frequency drives (VFD) to provide maximum air flow with minimal energy usage.
While the use of VFD systems provides many benefits, these systems can also create harmful shaft currents in the motors that can damage the motor/fan bearings and cause premature and expensive failures.
The Inpro/Seal Current Diverter Ring® (CDR®) provides a cost effective solution to mitigate stray shaft current problems in VFD driven motors. By safely diverting the shaft currents to ground, the CDR stops the electrical currents from discharging into the bearings - preventing premature, unplanned bearing failures and equipment downtime.
Inpro/Seal's shaft current protection technology can be specified by HVAC OEMs, so motors come equipped with the CDR right from the motor manufacturer. Also available in split designs, the Inpro/Seal CDR can be easily retrofitted to existing units.
Inpro/Seal's CDR's are beneficial in any application utilizing a VFD driven motor.
Key Applications: Air Handling Units, Fans, Chiller Fans and Pumps, Cooling Tower Pumps/Pumps.